This is a Lone Star Page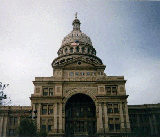 To celebrate the glorious heritage of Texas, I've assembled a few pictures and other links to educate the numerous Yankees and other 'furriners that might wander onto this page.
The first offering is a small photographic tour of the Texas capitol building, which I understand to be the largest capitol among all the North American states, including that of the United States. You can begin this tour by clicking on the picture of the capitol above, or by following this link to my Capitol of Texas Web Page


The capitol of Texas is located in the same city in which I now reside: Austin, Texas. In the middle of Spring, this part of the State becomes covered by our most famous and most prized wildflower, the Texas Bluebonnet (which is also the state flower as you might imagine).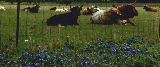 Aside from our state's natural beauty, we are also the chief grower of Dixie's most perfect food: the watermelon.

And just in case you thought this grandson of a cattle rancher has somehow forgotten, Texas is also the chief cattle breeding state in the U.S., with our livestock population numbering well over 15 million. The most famous of these are our Texas Longhorns, pictured here before a patch of bluebonnets.

If you find anything in here you have questions or comments about, feel free to leave me email right here.&nbsp
To return to my home page, click here.