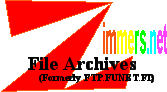 Programs to transfer files C64 <-> Amiga and convert text, graphics and
font files. Uploaded by Peter Weighill <stuce@csv.warwick.ac.uk> (address
no longer valid).


Converts different Commodore file formats between each other.
Supports various disk images, tape images, file archives and emulator
file formats.


A program to convert C64 programs from datasette to amiga file format for
use with TheA64Package etc. Uploaded by Peter Weighill.


Mirror sites – General information – File types – Data transfer