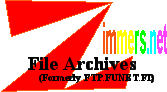 prg2tap-1.8-win32-with-examples.zip

2021-07-11

11602

Convert PRG files to TAP
Polish and English language.

T64EMP.zip

2009-08-18

318900

TEMP - T64 Extraction / Manipulation program
A next version of my ExtracT64 program.
Windows cross-platform tool to manipulate T64 files. It contains GUIs for some C64-related console applications, such as tape64, PUcrunch, Cartridge convert. It's possible to join TAP files too. Some functions to mix pictures to PRG programs.
This program is currently in experimental stage.


Mirror sites – General information – File types – Data transfer