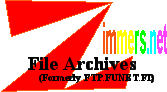 The Commodore 1581 is a 3,5 inch drive with serial bus connection. The drive used a normal MFM controller and a double density drive mechanism. The 27256 can be used as a replacement eprom.
3rd party modifications to the 1581 ROM.
ROM from a C128D / 81 with "1563" board inside.


System firmware, first version. This chip has also been numbered
312558-01.


System firmware, second version.


EPROM dated 11/26/1986 from prototype 1581 in Amiga 1010 case.


Source Code


A few cross-references for the 1581 firmware 318045-01, created
by Asger Alstrup <alstrup@diku.dk>.


Mirror sites – General information – File types – Data transfer