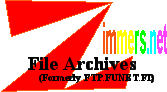 These files were saved off some EPROM chips on a 8280 motherboard. Uploaded by Bo Zimmerman <bo@zimmers.net>.
floppy drive controller (FDC) firmware for 8280
CBM DOS 3.0, $c000-$dfff part, rev. A
CBM DOS 3.0, $e000-$ffff part, rev. A


A list of chips on the 8280 motherboard. Composed by Bo Zimmerman.


Mirror sites – General information – File types – Data transfer