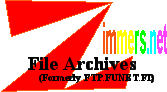 This directory contains pictures of a Commodore C65 prototype. The project was canned, but the prototypes were sold in Autumn 1993 when Commodore liquidated one of its warehouses. The pictures are scanned from the German 64'er magazine, issue 3/94. Read the article and also the interview of a chief engineer Fred Bowen in issue 4/94 to get more information.
Note that these pictures have poor quality, since they were scanned from the magazine.
Commodore 65, the back view.
The Commodore 65's motherboard. There are some arrows in the picture,
showing out parts that were zoomed in the magazine.
Commodore 65, the front view.
Commodore 65, the left view. The joystick and power connectors are here.
The Commodore 65 transformed, made by sticking a label on a 64c transformer.
Mirror sites – General information – File types – Data transfer