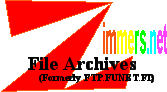 /pub/cbm/vic20/demos.basic/
Here you will find demos and other programs that require little interaction. All of these programs have been written in BASIC.
BASIC demos that require a 3k expansion (may work with more)
BASIC demos that require an 8k expansion (will work with more)
Printer demos (PETSCII graphics) written in BASIC. Many require big memory expansions.
BASIC demos requiring the Super Expander cartridge
BASIC demos for the unexpanded VIC-20.
Mirror sites – General information – File types – Data transfer