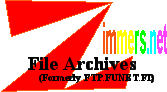 Tape image of Arcadia.
"Imagine Software present Arcadia by D.H.L. © code, audio, visual
copyright © 1982 by Imagine." A shooting game.





Tape image of Luftkampf.
Air battle. A shoot-em-up in a two-dimensional grid. The enemies do not
shoot, and the player can only fire one missile at a time.


Mirror sites – General information – File types – Data transfer