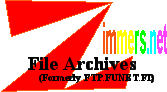 /pub/cbm/c128/graphics/
40 column art program written in BASIC by L. K. Snyder. Use joystick in
port 2, and press F5 to view the help menu.


80 column screen editor


A funny program that bends faces.


Draws a spinning globe on the VIC-II screen.


Star Paint 40 column paint program


Star Texter 128 screen editor


Sample animation for the video128 animator.


Pictures for the VDC.


Video128, a shareware demo of an animator for the C128.


Simple evolution illustrator.


Mirror sites – General information – File types – Data transfer