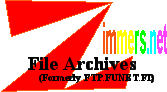 /pub/cbm/c128/packetradio/
This directory contains packet radio stuff for the C128. See modem.gif for a schematic diagram. The software is packed using PK-Zip on MS-DOS. Unpack it before transfering the files to your C128. These files were uploaded by ecrew@Alpha1.curtin.edu.au.
The packet radio software.


Documentation for the packet radio software (Digicom v5.00).


Documentation for Digicom v5.00 in another format.


The schematic diagram for a packet radio interface.
Mirror sites – General information – File types – Data transfer