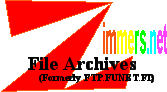 /pub/cbm/c64/archivers/
ARC 2.50 for .arc files


Arkive v1.0 for .ark files
Arkive v2.0


Calculates 32-bit CCITT checksums. C64/C128 executable.
Look also in the /pub/cbm/archiving subdirectory.


Generic .ARChive dissolver.


Decomper. "Comper" archive dissolver?


GZIP/ZIP decompressor for the c64, which also writes D64 files


GZIP/ZIP decompressor for the c64


Library (.LBR) creator/dissolver. Updated.


Very primitive old-style LZH/SFX dissolver.


Library (.LBR) creater/dissolver. Programmed in 1986. This format is
obsolete. You'd better use Lynx or ZipCode for new archives.


Lynx 17 for .lnx files, no compression


Collection of Lynx utilities for .lnx files. Includes LYNX XV, Ultimate LYNX 2 and 3.


A utility that converts an old-style .lzh file (created with
LHA or LHARC) to a self-extracting .sfx file.


Calculates checksums for files. Older version of CRC32 to be phased out.


Zip compressor for the c64


Archiver for .lnx files, no compression. No speed-up routines; works
also with other disk drives than the 1541.


Dissolves files zipped with MS-DOS PKZIP 1.10


User's manual for Errol Smith's unzip 2.0 program.
Unzip 2.15, an updated version of unzp6420.prg


Dissolves ?!ZipCode disk image archives.


Unzip 2.0 dissolves files created by PK-ZIP 2.0 using the Deflate method.
See the author's home page http://www.ros.com.au/%7Eerrol/64.html
for further information.
FAST UUencoder/decoder for the C64


UUencode and UUdecode for Commodore 64.


Archiver for PRG, SEQ, USR and GEOS files by Bill Lucier.
Copyright © 1997 by J & F Publishing. Published by Loadstar.


Mirror sites – General information – File types – Data transfer