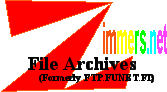 [no description]


Turns your C64 to a MIDI device.


Compute's Sidplayer disk with the player, some utilities and some musics.


PlaySID/Sidplay player for the C64. Works with about 90% of the tunes.


Kermit R. Woodall's version of Sidplayer that is capable of displaying
pictures while playing the music.


SidPlay 64 1.21 - For playing european SID files. Dozens of versions for
different hardware.


Stereo Sidplayer v10.3.


Mirror sites – General information – File types – Data transfer