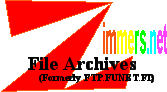 Brave was an Austrian group, formed by two Members (Jacky and Aacon) after the splitting of The Wild Boys in 1989. To contact them, write to Sascha Bamschoria <sascha.bamschoria@gmx.net>
Dieseltime 1.d64.gz (dir)

2009-08-18

105599

The first Brave-Demo, coded by Jacky and Aacon/Brave.
After this demo Jacky left the scene.

Dieseltime 2.d64.gz (dir)

2009-08-18

98125

Brave-Demo Nr. 2, released on the Chaos-Party 1990 in Weiz/Austria.
Made by the only member left, Aacon/Brave.

Dieseltime 3.prg

2009-08-18

24866

1994 Aacon/Brave. Spriteplotter over FLI graphics and a scrolltext.
Mirror sites – General information – File types – Data transfer