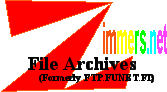 Cage is a small English group. It was previously known as G-Tech.
This is a simple utility disk with a wide variety of tools for the C64/128.
The utilities haven't been tested on NTSC systems.


1998 The Simpsons sing the blues - a two-sided Simpsons picture demo
by Cage Development, with seventy pictures. There is a note on the second
disk side. Uploaded by Danny Tod (dtod@hotmail.com).


Mirror sites – General information – File types – Data transfer