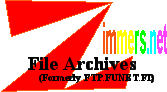 This directory contains the productions of Chromance, a Hungarian group.
The LZH files contain whole disksides (ZipCode format), and the LNX files contain multiple files.
Uploaded by Jean/Chromance (jean@labor.obuda.kando.hu).
Other Chromance productions than demos
A listing of the Chromance productions.





1990 Chromance Party V1/1st


Duplo Land/Vision+Chromance


1995 Fantasy!


In Kuwait!/Vision+Chromance





1992 Magic Intro Preview


Music #001 and #002, released in 1990.


Mirror sites – General information – File types – Data transfer