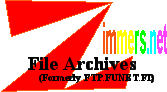 The Judges was a located in the Netherlands. They programmed some of the first demos that fiddled seriously with $d011.



Think Twice, a series of demos. These demos introduced the FLD technique.

Think Twice 5 has been partially unpacked and patched so that it doesn't
mess up with the $d030 register on the C128. Patched by Marko Mäkelä
(Marko.Makela@HUT.FI).
Mirror sites – General information – File types – Data transfer