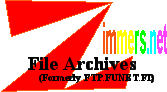 Instructions for the Action Replay Mk VI. Includes some undocumented
features.


C64 KERNAL jump table, composed by Frank Kontros (jeno@kontr.uzhgorod.ua).
Wide format (119 columns).


Commodore 64 keyboard matrix and how to read the keyboard. Uploaded by
Fungus/F4CG (fungus@eskimo.com).


Turbo Assembler documentation.


This text file tells you how to program the movable object blocks,
MOBs or sprites, in BASIC or in machine language.
Mirror sites – General information – File types – Data transfer