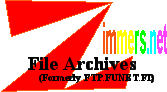 Converter for GoDot, a Windows-based picture converter and editor.
ARTBMP v1.01b - An MS-DOS utility for viewing and converting PC/c64 graphics


C64 Picture displayer for the PC.Requires VGA.


A Windows program (written in Visual Basic) that makes conversions
between different Commodore graphics formats. See the description file.


Image64 is a tool to converting any pictures from C64 to PC & PC to C64.
For more infos please read the file 'read.me'.


This MS-DOS utility converts Commodore 64 Koala Paint images to PCX format


PetRUS 1.1 by Dima Sobolev, a character editor he wrote in order to
reproduce the Russian PET character generator ROM. The program supports
any Commodore 8*8 character ROMs with 256 or 512 characters (2048 or
4096 bytes).


PIC64 is a programme to display C64-pictures on a PC with a VGA card.
All kinds of C64-formats are supported: Hires, Multicolour, AFLI, FLI and
interlaced FLI. Also different painting-programme-formats can be displayed.
Finally you are able to convert the pictures to the PCX-format, known by
most PC-picture- viewers.
PIC64 is freeware made by Volker Beck.


Mirror sites – General information – File types – Data transfer