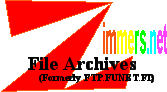 Files for Pasi Ojala's DYCP article.


Example files for Craig Bruce's article on scanning the keyboard
with the three key rollover technique.


Example programs for Bill Lucier's article on LZW compression.


Schematic diagram of a heavy-duty power supply, in geoPaint format.
Designed by John C. Andrews. This file seems to be corrupted.


Examples for Pasi Ojala's article about opening the screen borders.
Mirror sites – General information – File types – Data transfer